SIMPLE AS IS EMBODIES A LOVE FOR SIMPLICITY AND A COMMITMENT TO BE KIND BOTH TO THE PLANET AND PEOPLE.
Our designs are simple yet elegant, relaxed yet sophisticated. Each piece can be worn as a wardrobe staple for years to come.
Our products are consciously made with natural, biodegradable fabrics and certified production. All labels, trims, and threads are made from recycled materials or responsibly sourced.
WHY WE USE NATURAL FABRICS?
Natural fabrics are biodegradable, renewable, breathable, and durable.
And they're one of the most effective ways of improving our environmental footprint.
Every fabric has its own advantages and disadvantages. Here you can learn why our consumption patterns need to be improved, why we need to know the source of the fabric we wear, and why we work with limited quantities.
We aim to make conscious choices and to be transparent.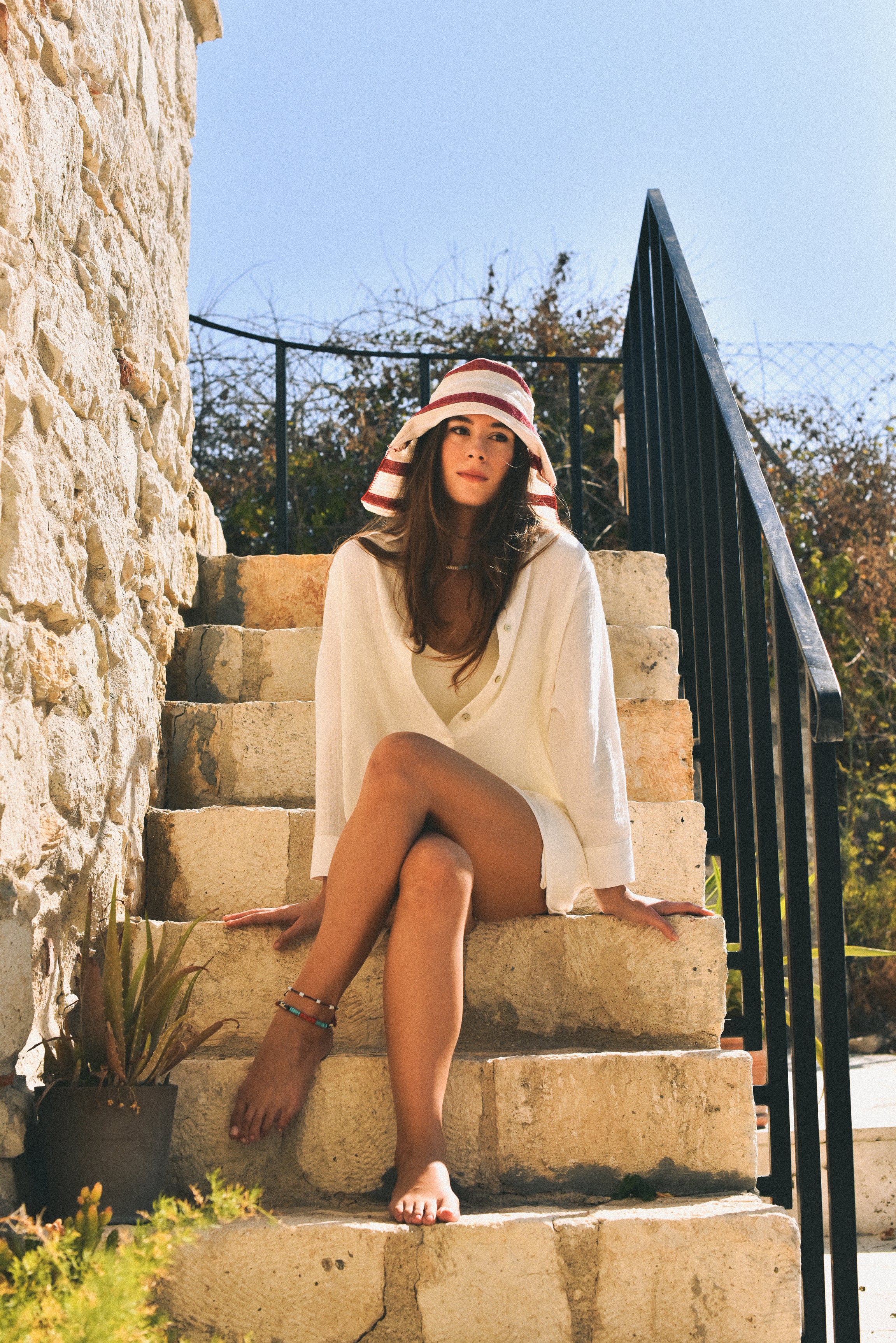 OUR FABRICS AND OTHER MATERIALS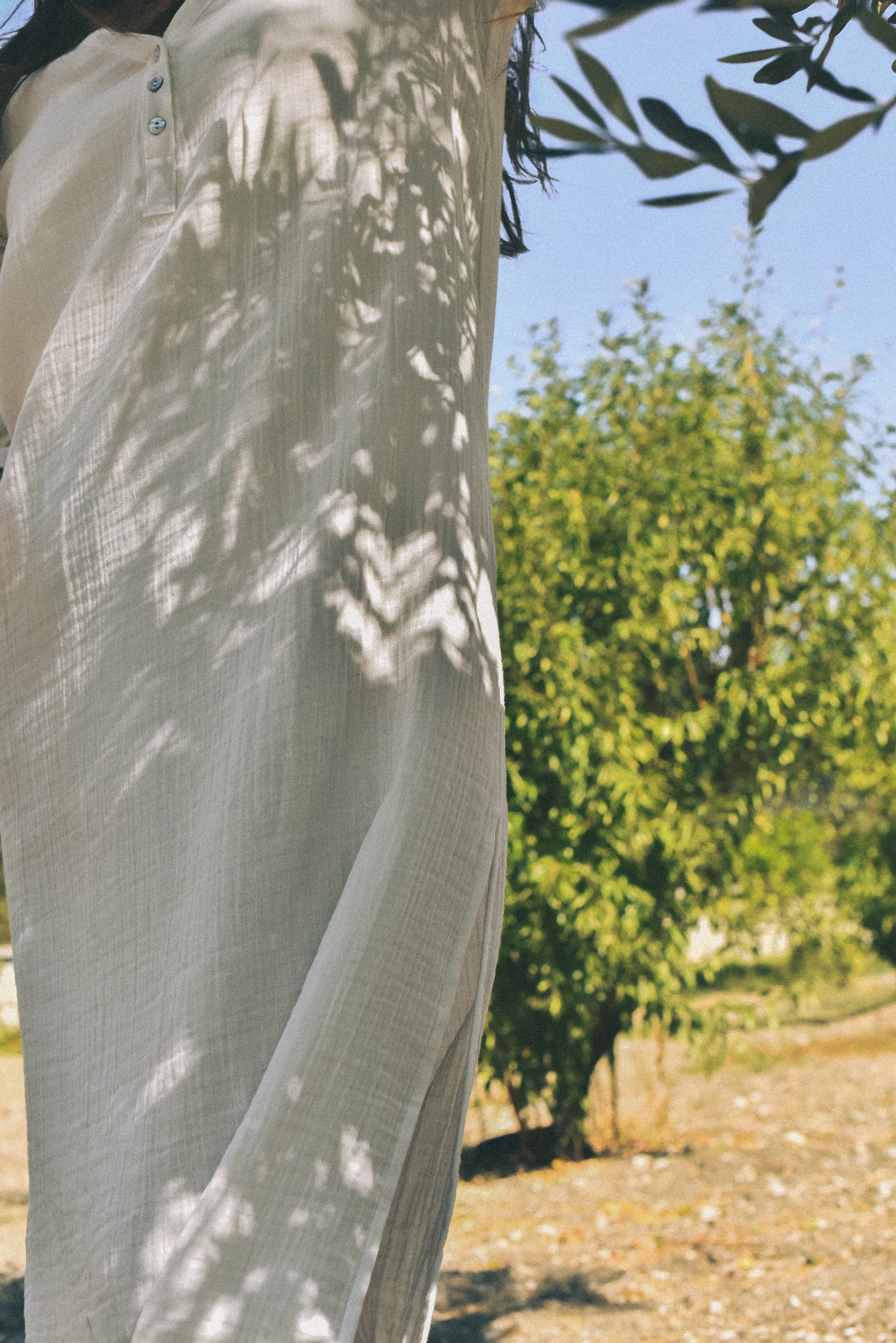 ORGANIC COTTON
PROS
ORGANIC COTTON is grown safely and processed without toxic dyes and finishing materials, produced and certified to organic agricultural standards.
The production sustains the health of soils, ecosystems and people by using natural processes rather than artificial inputs. Organic methods support biodiversity and healthy ecosystems. Organic cotton farming does not allow the use of toxic chemicals, like pesticides, or genetically modified organisms. 
CONS
Lower yield, less efficient therefore less revenue. It cannot keep up with the demand. Time intensive. Less than 1% of the cotton grown worldwide is truly organic.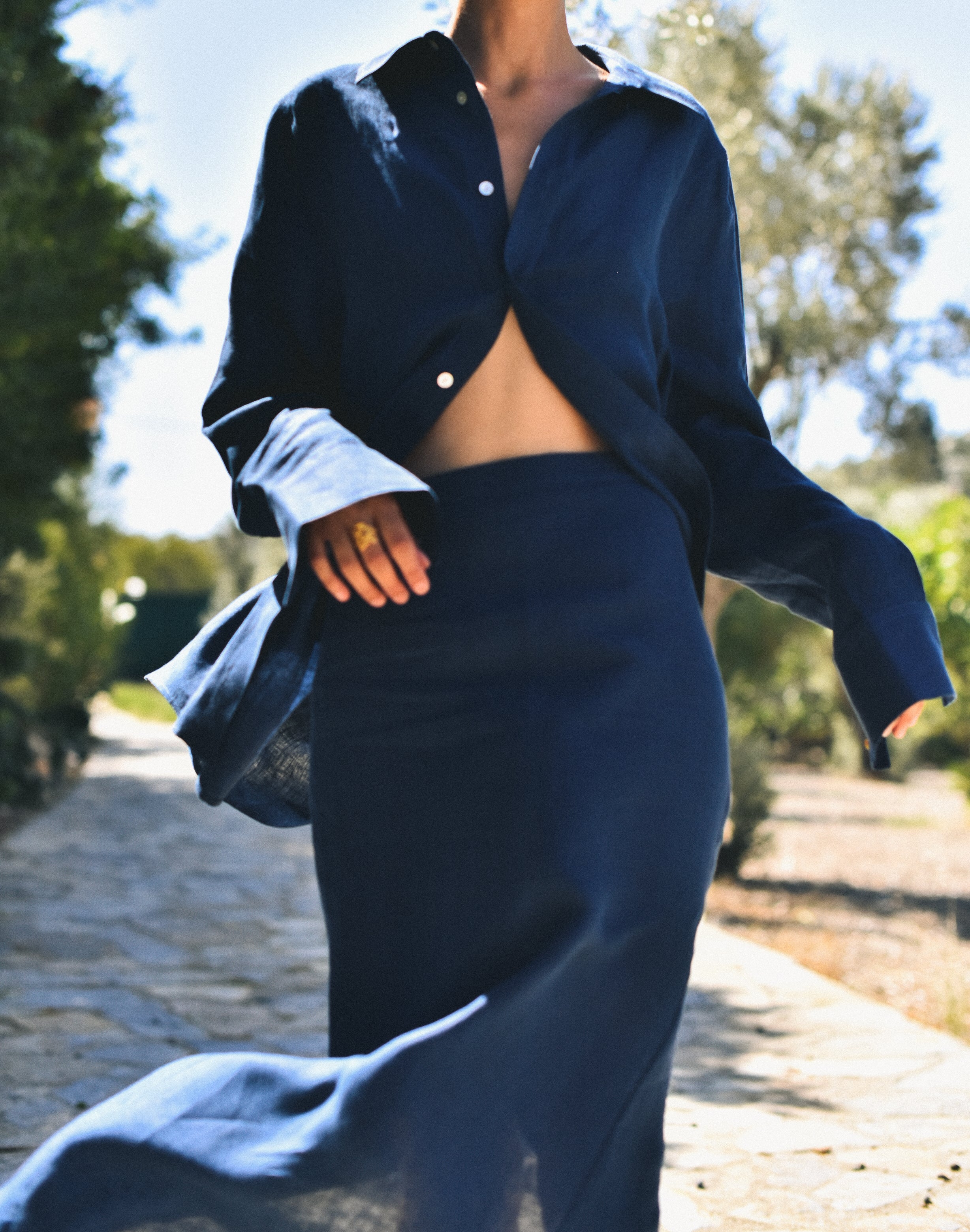 LINEN
PROS
LINEN is biodegradable and stylish. It is a lightweight fabric made from the flax plant. The word "linen" comes from the Latin name for flax, "linum usitatissimum." 
Linen is extremely strong and durable, which makes linen worthy of investment. Linen is also completely recyclable, cellulose-based and zero-waste.

CONS
Because of the laborious time it takes to produce the linen yarn, and the manual processes that has to be undertaken, linen has become a higher priced commodity, and considered among many to be a 'luxury' fabric.
HEMP
PROS
HEMP is biodegradable therefore creates one of the most eco-friendly fabrics in the world. Its cultivation has a low impact on the environment.
Hemp fabric is made from the fibre in the herbaceous plant of the species cannabis sativa. It is a high-yield crop that produces significantly more fibre per acre than either cotton or flax. 
Hemp fabric is very strong, absorbent and durable. The plant is naturally resistant to pests and growth requires little water. Hemp fabric is known for aging well; the more you wear it, the softer it becomes. 
CONS
Hemp needs to be planted responsibly in order to protect the eco-system. It is also more expensive than other natural fabrics mainly due to the cost of the infrastructure.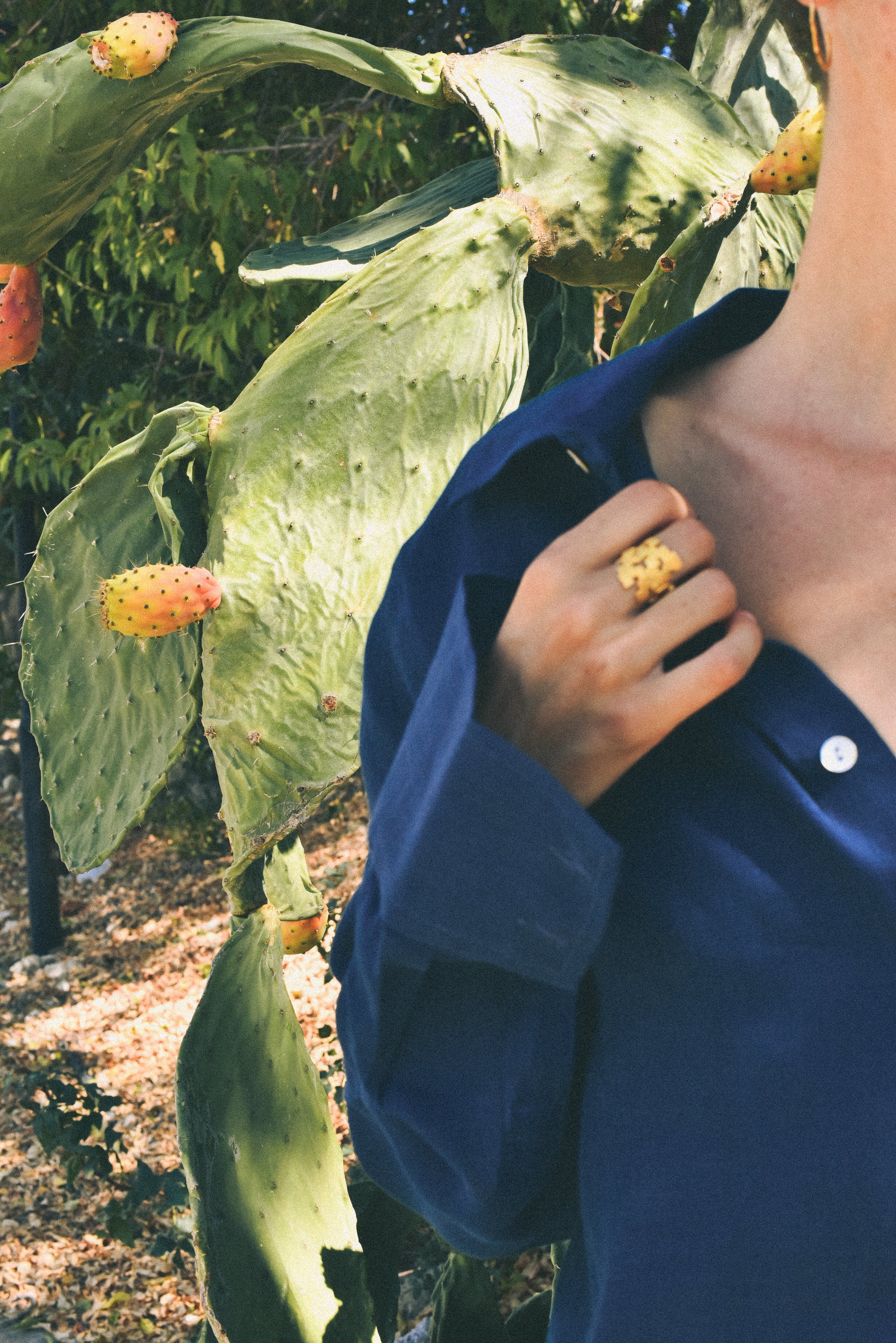 NATURAL BUTTONS
PROS
COCONUT BUTTONS are made of the outer shell of the tropical coconut fruit which is full of plant fiber. These buttons are a durable and sustainable alternative.  

SHELL BUTTONS come purely from nature with their unique quality and beauty. Shellfish are consumed in great quantity in many parts of the world. They are considered to be sustainable because they are the otherwise a wasted byproduct of the food manufacturing process.  

CONS
The color and texture of natural buttons are inconsistent. The color and texture of buttons may vary slightly in the shade of color.  
GOTS CERTIFIED COLORING OR UNDYED FABRICS
We are continuously seeking new technologies for natural dyeing.  

We love the colors of nature, we just want to use them without harming the environment. 
All our coloring is GOTS certified, a reactive dying method. 

We create our color palette from coloring that is safe for our health and respect the environment.
We also create sustainable products from undyed fabrics; manufactured without color to save thousands of gallons of waste water in the production process.   

WHAT IS GOTS CERTIFIED DYING PROCESS?  

The Global Organic Textile Standard (GOTS) has a clearly defined set of criteria and is transparent. Reactive dyeing is the most important method for the coloration of cellulosic fibre such as Organic Cotton.  

GOTS Certification also required that processing units do not pollute the environment and that they produce "ZERO Waste water discharge".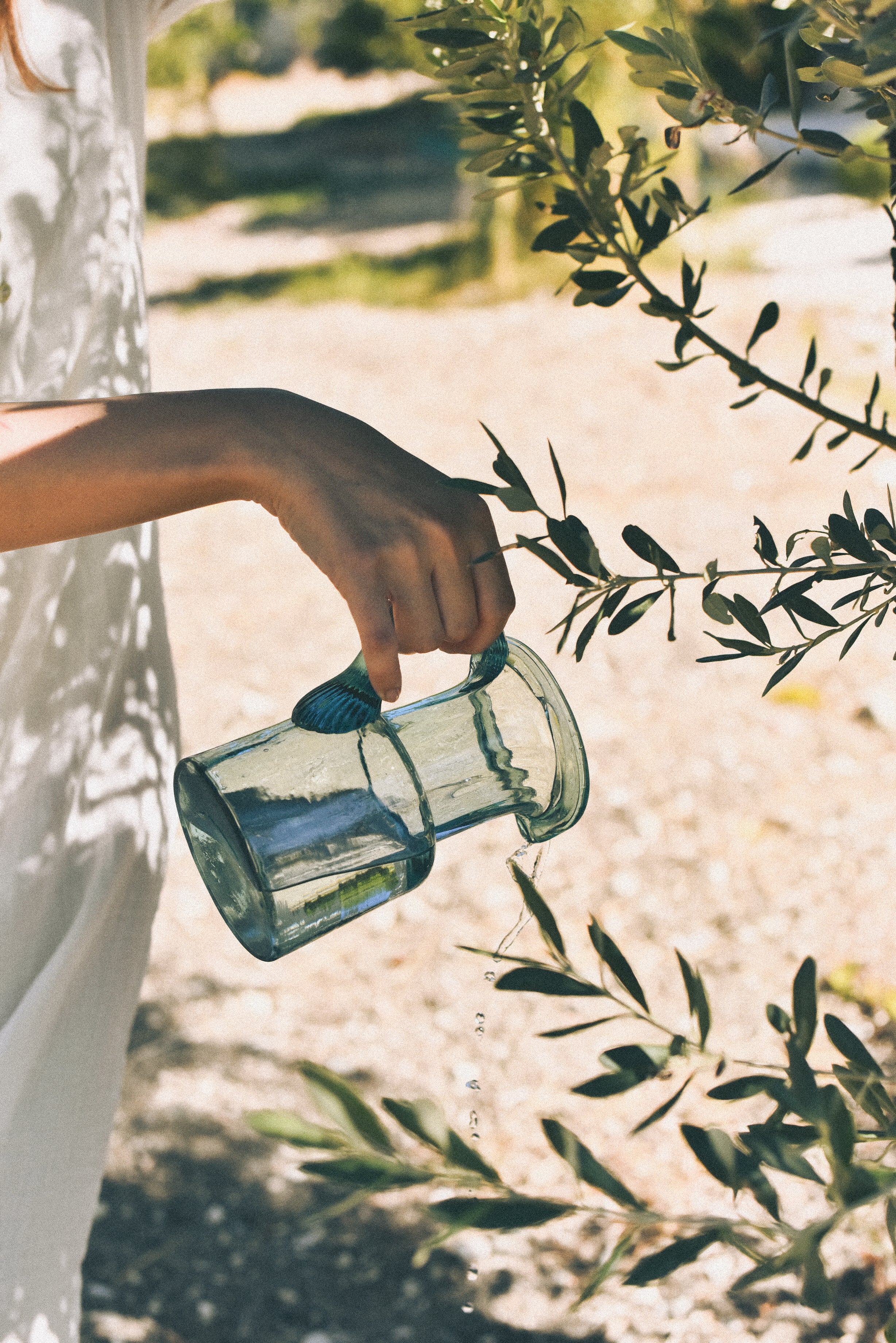 IMPACT
Fear Wear Foundation
The products are produced at a manufacturer ensuring human rights, environmental and commercial practices.
Member of Amfori BSCI
The products' manufacturer is monitored by Amfori enabling us to trade with purpose by improving social performance in our supply chain. 
Empowering Women
We support women of the Aegean Region to participate in the workforce by offering them the opportunity to find financial independence through employment opportunities. 
Giving Back
Part of the proceeds from each item sold from Simple As Is collection go toward planting a tree, taking care of an animal in need or supporting underprivileged children. 
HIDDEN CHOICES
PRODUCT TAGS
All our product tags, papers and cards are made from FSC certified recycled materials by FSC certified suppliers. 
We try to minimize any additional informational cards and try to provide all the details through our web site.
LOCAL MANUFACTURERS
Our products are made by certificated local manufacturers.
Choosing to work with local manufacturers reduces carbon footprint in throughout the supply chain.
PACKAGING
We receive our products from our suppliers in recycled plastics or recycled boxes.
We send our products in biodegradable shipping bags. If necessary, we use only recycled materials for additional product support. 
EQUALITY
Simple As Is is founded and run by Women with the aim of gender equality in the workplace; to achieve broadly equal opportunities and outcomes for women and men.
Our manufacturer's workforce %51 Women, 49% Men (monitored by Amfori.)
Certifications





What is European Flax ®?
European Flax® is the guarantee of traceability for premium linen fibre grown in Europe. A natural and sustainable fibre, cultivated without artificial irrigation and GMO free.
This certification shows you that the linen fabric used in one of our linen garments or homewares has been sourced from high grade European linen.
Tested for strength and sourcing, our linen comes from European flax, grown across the lowlands of Belgium, the Netherlands and Northern France.
WHAT IS GOTS?
GOTS is short for GLOBAL ORGANIC TEXTILE STANDARD.
GOTS is recognized as the world's leading processing standard for textiles made from organic fibers. 
GOTS defines a high-level environmental criteria throughout the entire organic textiles supply chain and requires compliance with social criteria as well.
WHAT IS BCI?
BCI is short for BETTER COTTON INITIATIVE.
BCI is the largest cotton sustainability programme in the world.
Better Cotton Initiative (BCI), is a concept to grow cotton with judicious use of water, chemical fertilizers and pesticides, to reduce the environmental footprint of cotton farming.
WHAT IS GLOBAL RECYCLED STANDARD?
The Global Recycled Standard (GRS) is a voluntary product standard for tracking and verifying the content of recycled materials in a final product.
The standard applies to the full supply chain and addresses traceability, environmental principles, social requirements, chemical content and labeling.
WHAT IS FSC?
FSC is short for FOREST STEWARDSHIP COUNCIL.
Their mission is to promote environmentally sound, socially beneficial and economically prosperous management of the world's forests.  
Simply, the FSC takes precautions to make sure that a forest is grown ethically and sustainably.
WE BELIEVE SIMPLICITY IS THE KEY TO FREEDOM.