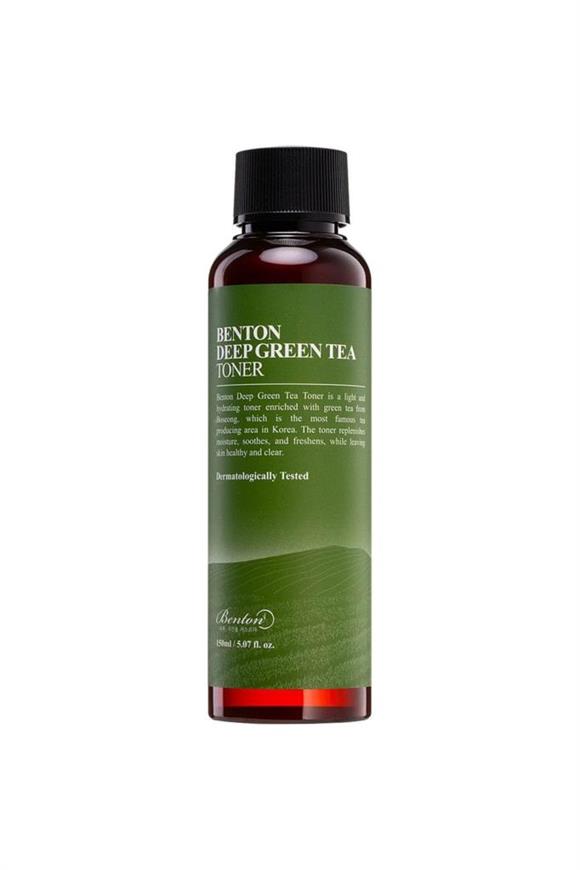 Renewing, soothing and refreshing the skin, keeping it healthy and clean.
Benton Green Tea Extract Tonic is a light tonic enriched with green tea produced in Boseong, the most famous tea growing region in South Korea.
It contains green tea extract, centella asiatica extract, houttuynia cordata extract and other herbal components; It helps hardened and dull skin to gain a healthy and lively appearance.

It is recommended for dry and dull skin looking for instant hydration, skin with uneven skin tone, skin with excess sebum and oil-moisture balance problems, and skin sensitive to chemicals.
SIZE
150 ml

USE
After cleansing the skin, apply an appropriate amount of product to your face with your hands or with the help of a cotton ball.

INGREDIENTS
Camellia Sinensis Leaf Water (50%), Aqua (Water), Butylene Glycol, 1,2-Hexanediol, Glycerin, Pentylene Glycol, Sodium Hyaluronate, Centella Asiatica Extract, Houttuynia Cordata Extract, Camellia Sinensis Leaf Extract, Camellia Sinensis Seed Extract, Camellia Sinensis Root Extract, Salix Nigra (Willow) Bark Extract, Punica Granatum Fruit Extract, Betaine
Benton's principle is to exclude harmful and controversial ingredients in their products.
Freshly Made Products And Reliable Manufacturing Processes:
Benton strictly follows their principle of producing in small batches and produces products only at manufacturing facilities that comply with strict manufacturing and quality control standards.
All of Benton's products are cruelty-free and certified by PETA. Our selection of Benton products are vegan.
In their packaging they use Bagasse which is sugarcane pulp, a by-product of the sugarcane industry. It is the fibrous substance that is left behind after the juice of the sugarcane plant is harvested. Until recently, bagasse was usually disposed of or left to rot.
Benton's packaging is printed with Soy Ink that is natural and not harmful for the environment.
This product is made in Korea.
It will ship within 1-4 days.
Returns are accepted ​on this product within 15 days of receipt. Item must be returned unused, with tags, in its original packaging.
Share