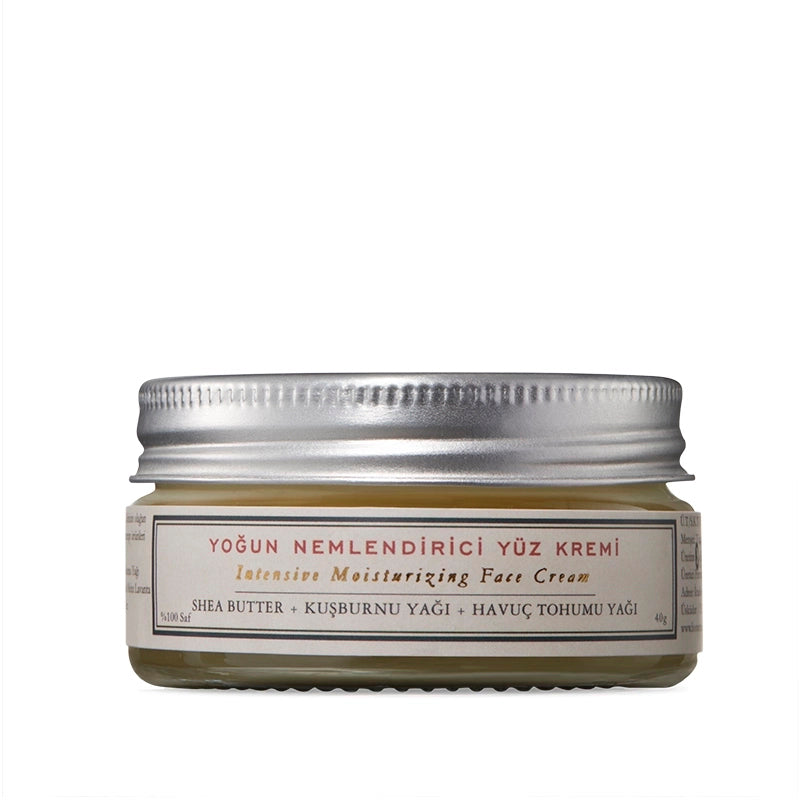 Intensive Moisturizing Face Cream
With its intensive formula, it deepy moisturizes and refreshes the skin.
Homemade Aromatherapy products are formulated with natural raw materials and 100% pure essential oils and cold-pressed fixed oils.
It does not contain synthetic fragrances, dyes and preservatives.
DIRECTIONS
Apply a small amount of product to your face by massaging with your fingertips. 
SIZE
40 gr
INGREDIENTS
Product Composition: Shea Butter (Butyrospermum parkii butter), Cold Pressed Carrot Seed Oil (Daucus carota sativa seed Oil), Rosehip Seed Oil (Rosa canina fruit oil), Hybrid Lavender Essential Oil (Lavandula hybrida herb oil), Vitamin E (Tocopherol) .
*It has the Vitamin E Ecocert certificate.
This product is made in their own laboratory, which has GMP (Good Manufacturing Practices), ISO 9001:2005 certificates.
Produced with the intention of helping to protect and maintain health, prepared by using cold-pressed fixed oils, pure essential oils, hydrolates (plant juices), plants collected correctly at the right time, which do not contain any additives and have not undergone any chemical process in the process of obtaining.
Made in Istanbul, Turkey.
It will ship within 1-4 days.
Returns are not accepted on this item.
Returns are accepted only ​if the item is broken or damaged.
Please e-mail info@simpleasis.com for any inquiries.
Share